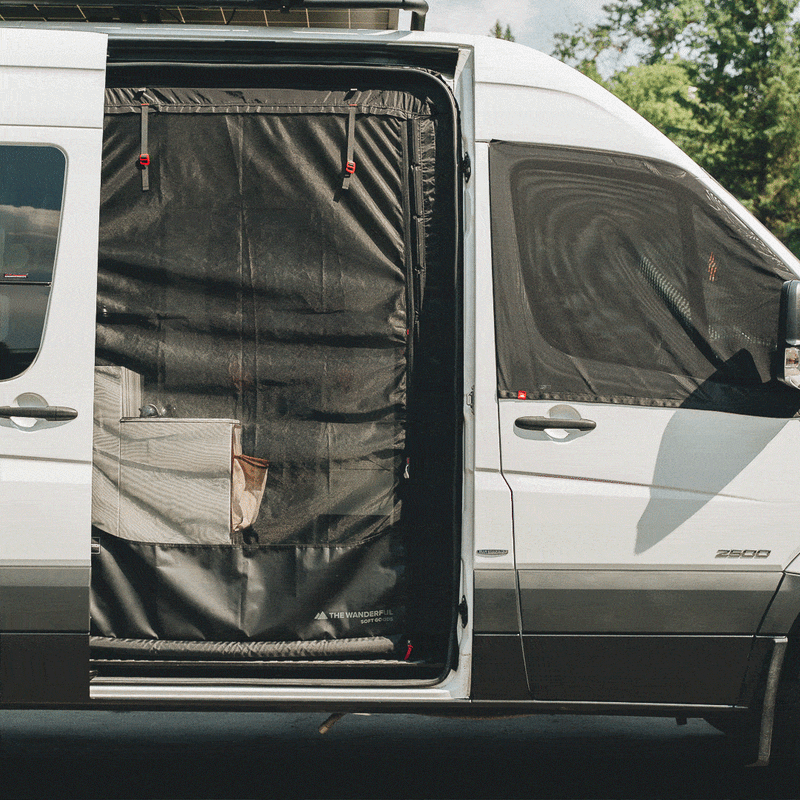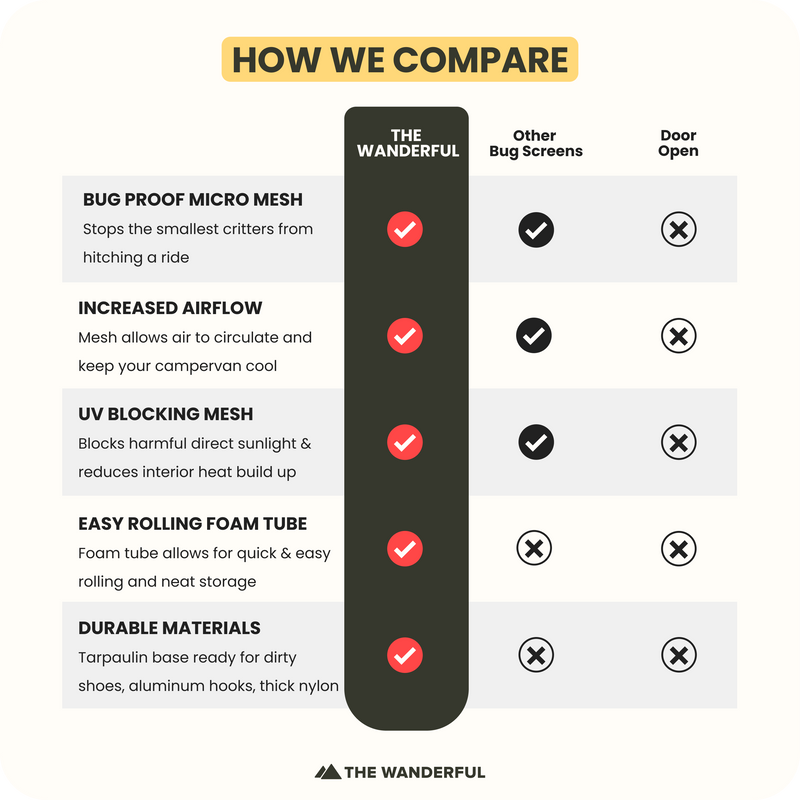 CampGuard Pro Sliding Door Screen
Choose Your Van
Sprinter 07-Current
Shipping in 6-8 Weeks
Tired of your van feeling like a sealed-off tin can all the time? Our Magnetic Latching, UV Blocking Bug Nets allow airflow while keeping bugs out and blocking UV Rays, minimizing direct sunlight.

✔ Keeps Bugs & Dust Out
✔ Allows Air Flow
✔ Provides Privacy & Sun Protection


Free shipping within the contiguous USA
High Quality Fine Weaved Mesh
UV Coated Nylon
Stain-Resistant Tarpaulin
Magnetic offset door closure
Full zip-out capabilities
Fits Mercedes Sprinter 07-2023 (High Roof)
1 x Sliding Door Bug Screen
Foam tube for easy rolling
30 x Metal Fabric Clips (for installation)
3 x Screws
Quality Camping Without the Bugs!
You need to get your hands on a set of these. They are a DIY Install, setup in seconds, and guaranteed to become your go-to summer camping must-have.
"I used to have to keep my van doors closed all the time to stop the bugs! Now I can enjoy the fresh air & views without a million bugs inside my van! I love them"
"Wanderful have thought about every little detail that matters. These screens not only look SO good, they make camping in my van 1000% more enjoyable."
"The materials are top-notch. Feels like they will last forever."
Designed for
Privacy, Pests & Protection
Our screens provide unrestricted airflow using durable polyester mesh, and keep the smallest of critters out of your van.
They use a self closing magnetic latch system so you never have to worry about closing the door.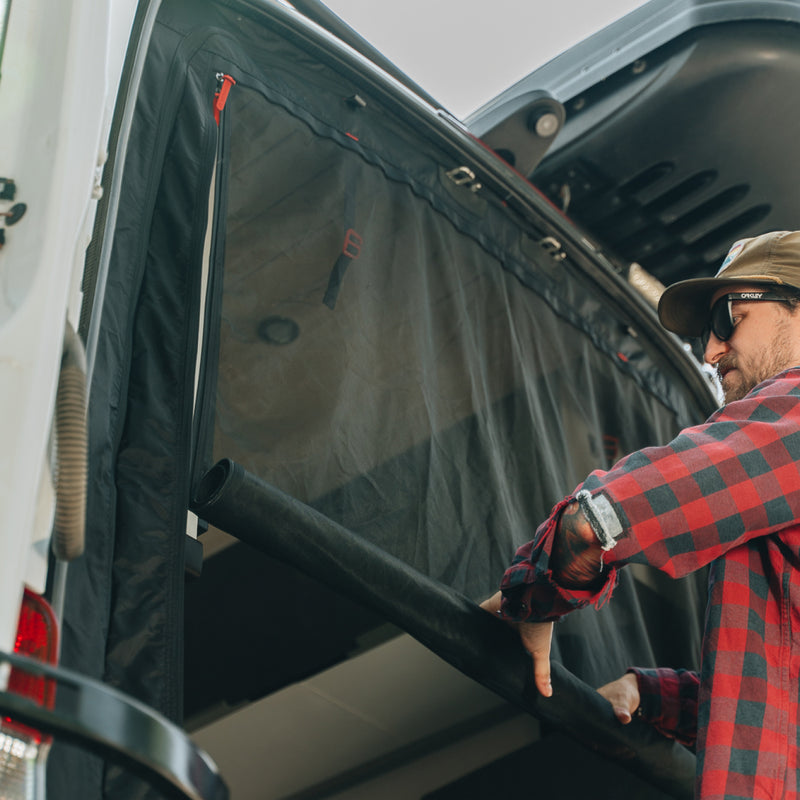 Made with
Materials Built to Last
✔ Durable Micro Mesh Screen
✔ Quick Roll Foam Tubing for Storage
✔ Easy Clean UV Coated Nylon
✔ Flexible Rubber Strip Magnet Closure System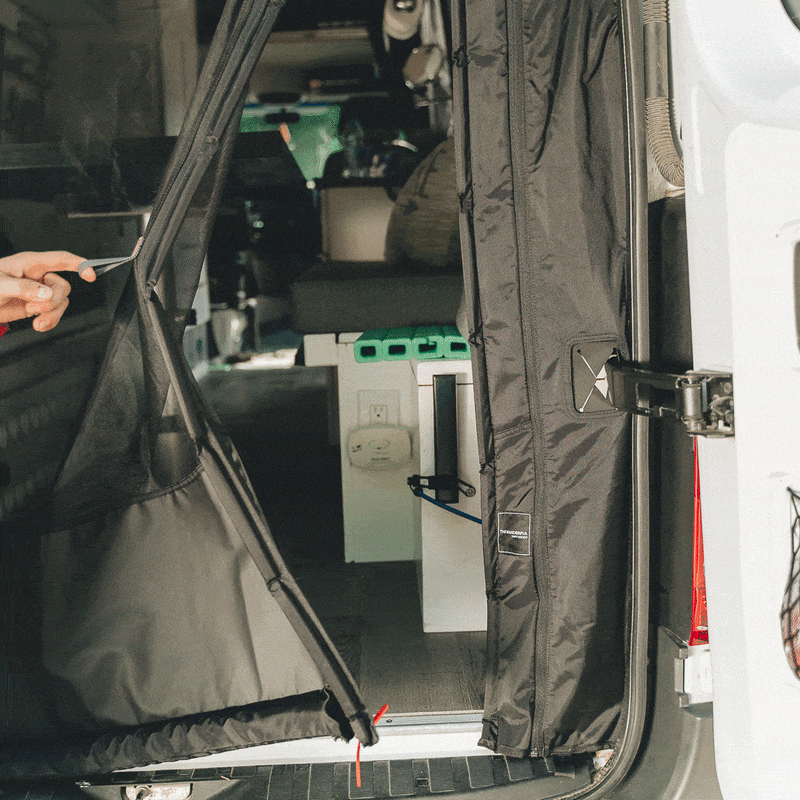 It's too easy
Automatic Closing
The CampGuard bug screen has been designed for hassle-free installation & simple daily use.
#THEWANDERFUL
See Our Gear in Action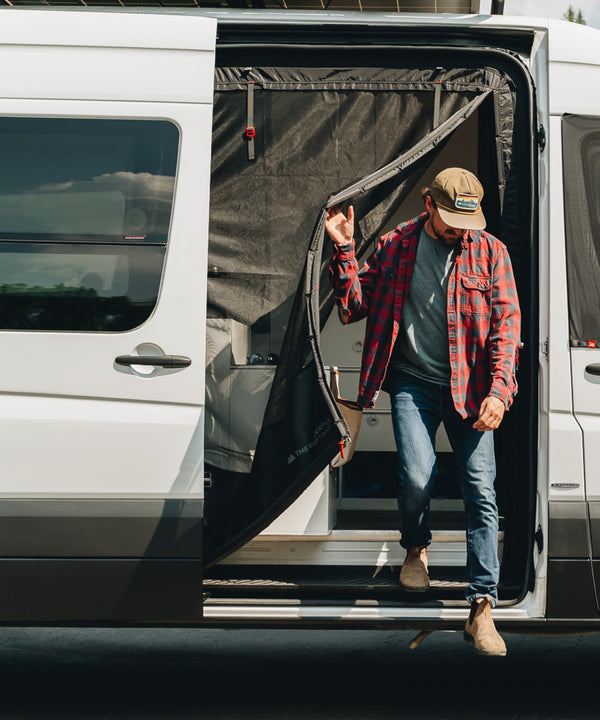 How To
Install Your New Screen
After 5 years of full-time van life, we know firsthand how crucial a good bug screen is for your van.
We wanted to build a system that was ready for every adventure.
Our screens feature the smallest holes for the best airflow and stop the smallest bugs, they install in under an hour, and are built using the best materials and hardware.

The best part? They are backed by our 3 Year Workmanship Warranty
To start, we've launched bug screens designed specifically for the Mercedes Sprinter Van 2007-2023.
We're actively working on screens for the Promaster and Transit vans. Please email us at hello@thewanderful.co to be added to our waitlist.
Feel free to send us some photos of your door opening so we can verify compatibility.
Our bug screens are a DIY install and usually take about 45-60 minutes.
While the install itself is a moderate difficulty, we always recommend a second pair of hands to help with passing tools, holding down weather stripping, etc.
Note: The sliding door screen is more challenging than the rear due to the overall shape of the door opening.

Click Here to Visit our Install Videos
The CampGuard Pro Bug Screen comes as 3 main components:
1. The Perimeter (installed in the weather stripping)
2. The magnetic opening (zips into the perimeter)
3. The mesh screen (zips & velcros into the magnetic opening section)
While the screen is certainly not a permanent install, the perimeter is designed as a one time install while the other pieces are built so they can be zipped in and out as needed.
You may return any unused product within 30 days from the time you receive your order.
To initiate a return, please email support@thewanderful.co.
For more information on our returns policy, please CLICK HERE
The construction, fit and fabric are great
I was really impressed with the quality and fit of The Wanderful products. The construction, fit and fabric are great. They are tough and durable- yet stylish. They are light but have a solid feel and are built to last. They seem really functional too. I like the detailing of the logo and the touch of bright colour on the logo or tabs. I'll be using mine throughout the year. I also like the storage bags that Scott includes- what a nice touch!
Thanks for making a great product
Thanks for making a great product, they work great and with the install video it wasn't too hard to get a good fit
Everything you want, nothing you don't
We love to travel with our one year old daughter in search of the best trails, waves and snow on board of our Sprinter van.
The Wanderful bug screens compliment the window cover set very nicely. The install takes seconds and they pack small when not in use. The screens keep the bugs and light out of the van but let all the air in which makes for a nice breeze throughout the night or during Frida's nap time!
We absolutely love them and couldn't go without them.
Much better insulation
much better insulation than the old fashion ones.
Just incredible products!
It is amazing!!! Somehow the vans with all their windows don't get enough air and having both front windows open makes a big difference. They are thick enough to keep the heat of the sunlight out and definitely keep the bugs out. Just incredible products!
They are perfect!
They are perfect! They let tons of air through & keep the van cool (and bug free) : )
Keep them coming
Great product Scott
Keep them coming.