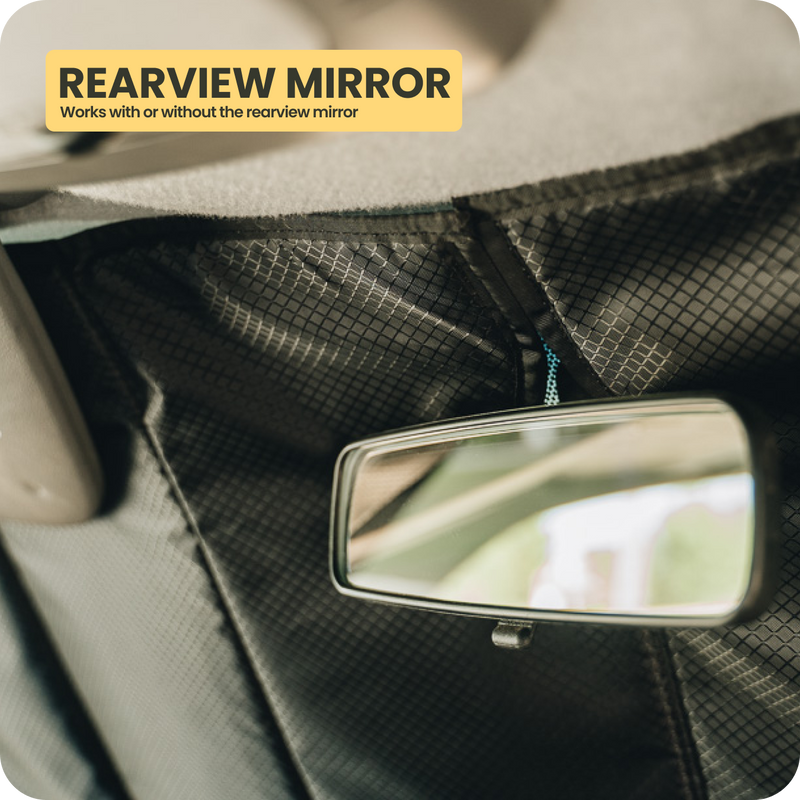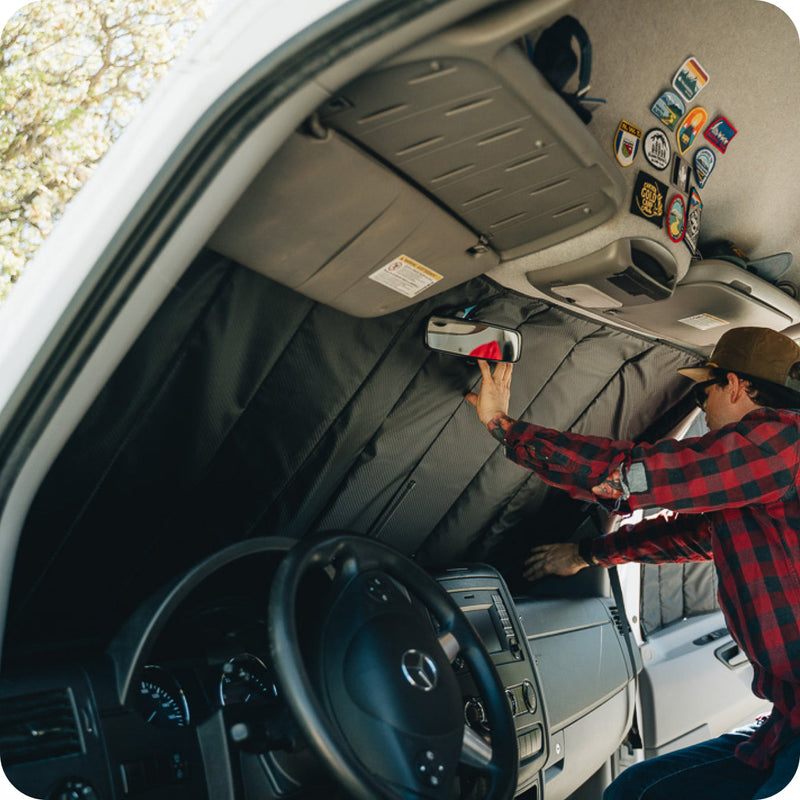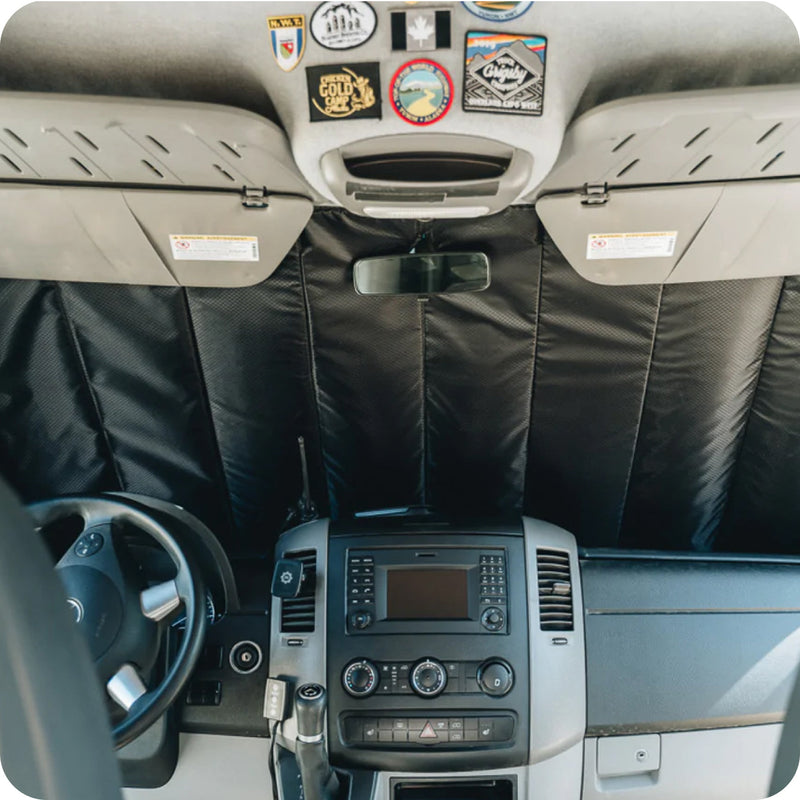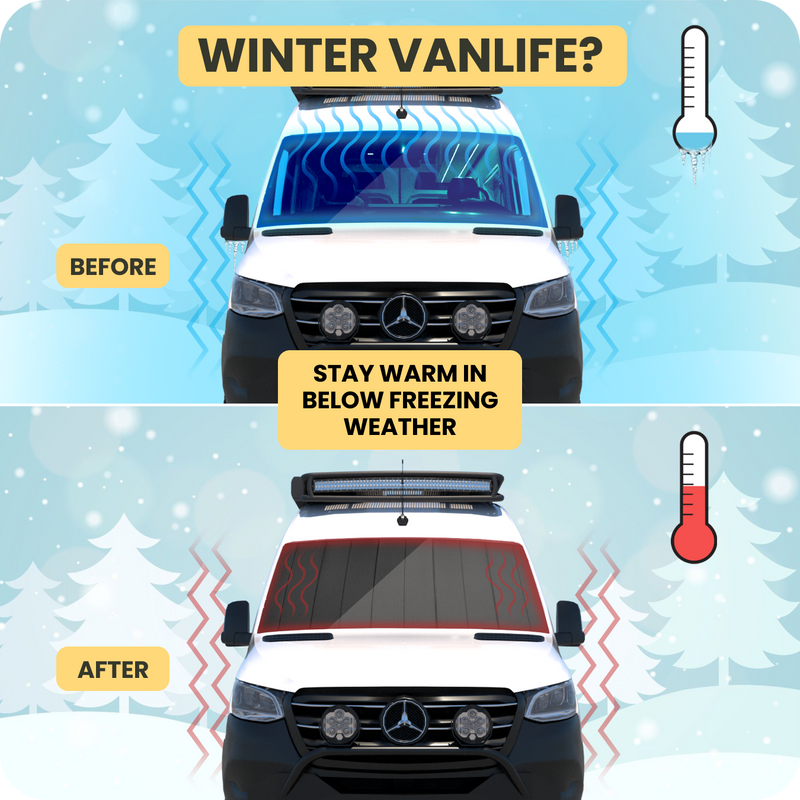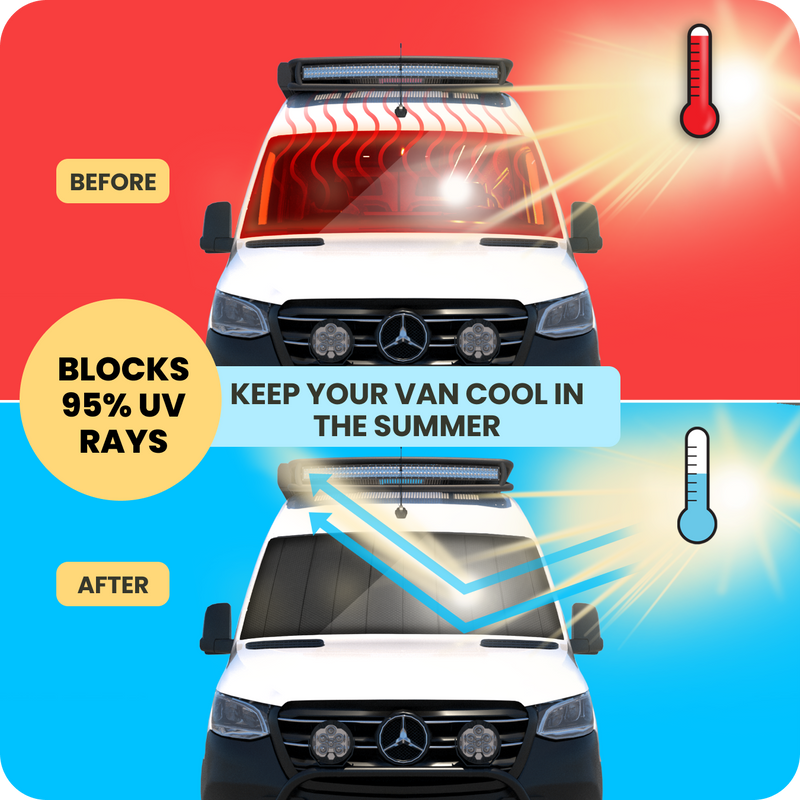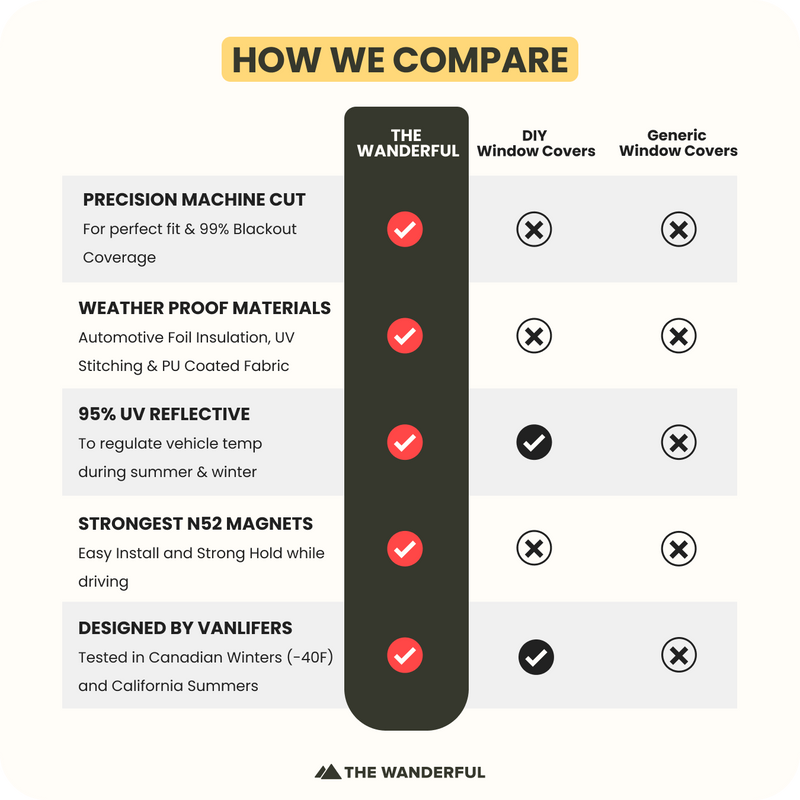 Windshield Cover
Choose Your Van
Ford Transit 2015-Current
In Stock & Ready to Ship
Insulated Window Covers

✔ Windshield Cover
✔ Free Storage Bag
Designed to give your van complete privacy and to block 95% of UV Rays

Free shipping over $60USD within the contiguous USA
Durable UV Coated Polyester
FXPE Automotive Insulation (95% Radiant Heat Reflective)
N52 Rare Earth Magnets
Fits Ford Transit Van 2015 - Current
Mid & High Roof Only (not compatible with low roof)
Works with all sizes of technology boxes
Works with or without rearview mirror
Attach using magnets and require exposed metal around windows (excluding windshield)
Windshield Cover
Driver & Passenger Window Cover Set
Storage Bag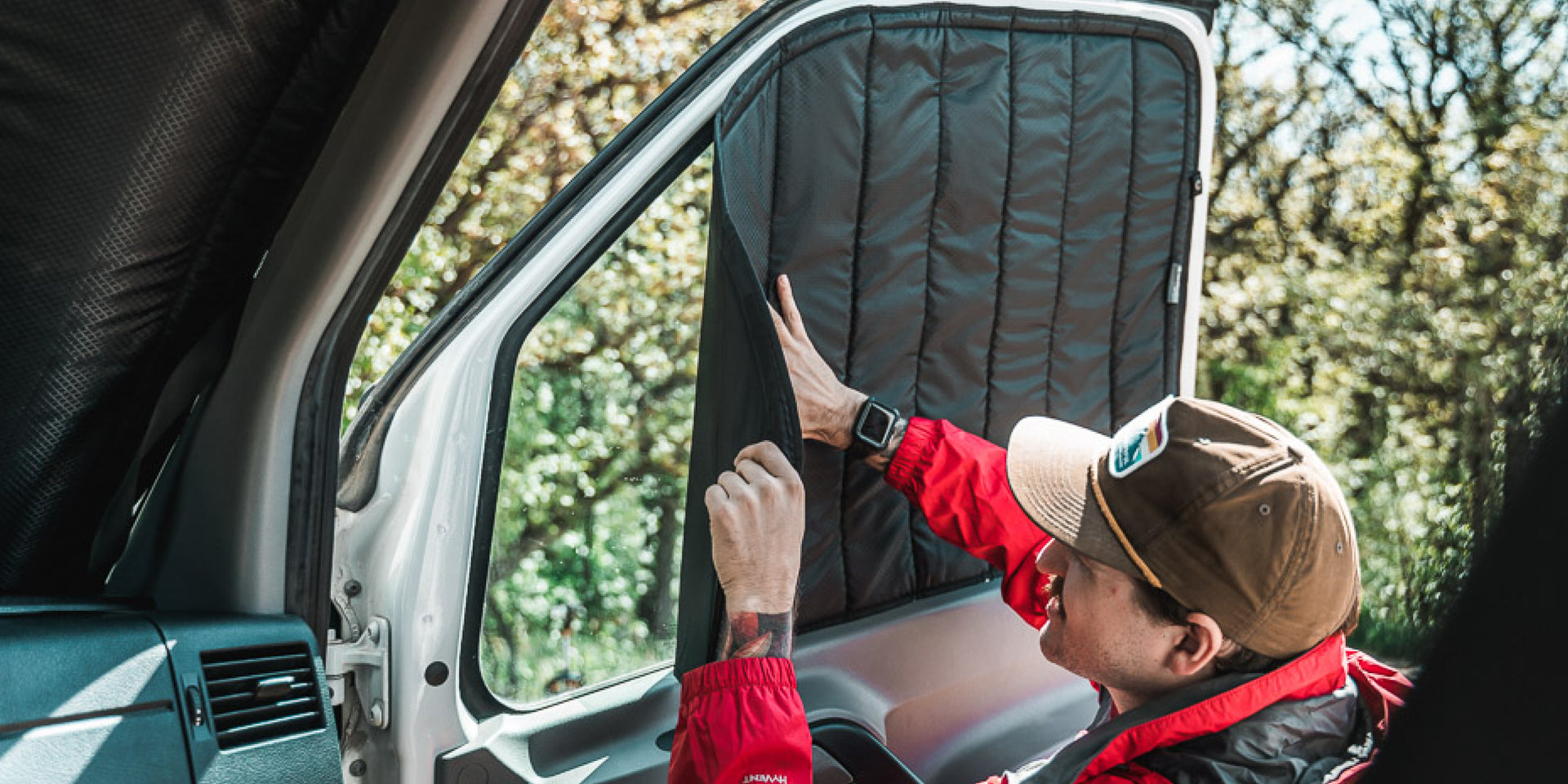 The Perfect Campervan Window Covers
After 5 years of full time vanlife it was time to build the perfect Insulated & Blackout Window Covers.
The result: I think we nailed it.
Received my set of van window covers and they are GREAT!! High quality, great craftsmanship and fit like a glove. 
"10/10 Best purchase for my van so far"
They kept the van cool even though we're in the midst of a heat wave with plus 104 degree temperatures.
Designed for
Privacy, Blackout and Temperature Control
Our precision machine-cut and strong rare earth magnets provide complete blackout and privacy, leaving you feeling safe and secure wherever you choose to camp
Made with
Automotive & Marine Grade Materials
✔ Water & Mold Resistant Materials
✔ Foil Faced Automotive Insulation
✔ UV Resistant Stitching
✔ N52 Rare Earth Magnets
✔ Polyurethane UV Coated Material
Winter and Summer
Comfortable in Any Climate
Winter or Summer? Doesn't matter... Our window covers are constructed using foil-faced insulation and tested in -40°C Canadian Winters and southern Californian summers.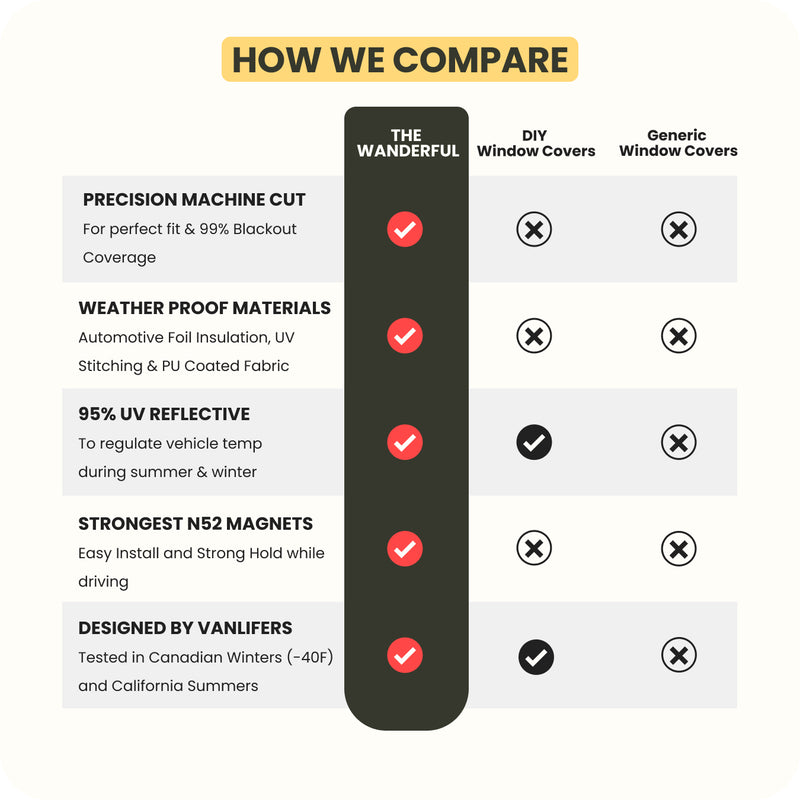 How We Compare
Other Window Covers just weren't cutting it...
So we made some that would

✔ Premium UV Resistant Materials
✔ Lightweight
✔ Fast & Easy Install
✔ Strongest Rare Earth Magnets
✔ Perfect Fit
✔ Blackout & Insulated
CUSTOMER REELS
Actual Customer Videos
#THEWANDERFUL
See Our Gear in Action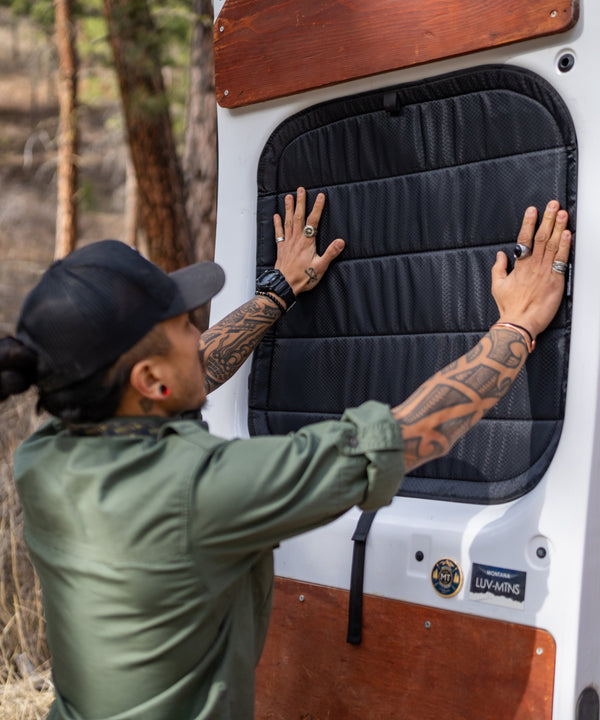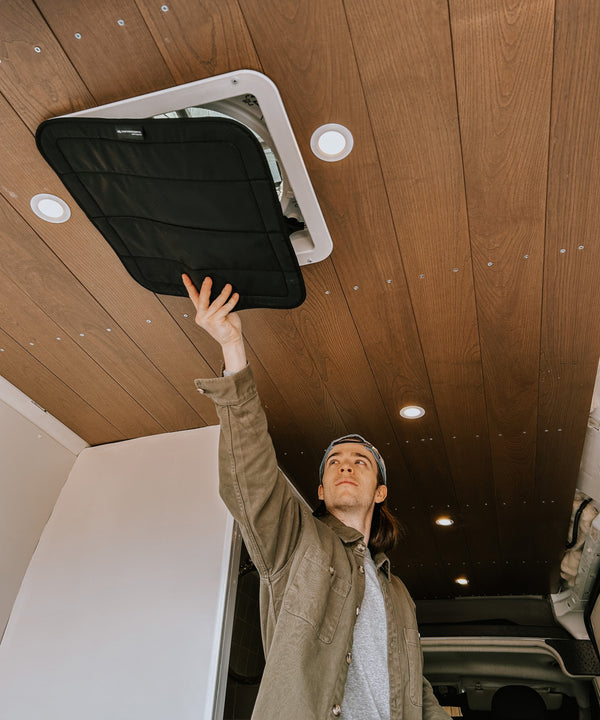 The window covers are awesome.
The window covers are awesome.
Thanks so much!!
Absolutely love the window covers
I have a 170 Mercedes Sprinter! Absolutely love the window covers
Phenomenal experience
Phenomenal experience with the product.
One of the best investments so far
We are in the process of building our sprinter camper van. Even though our van is not done yet, we have taken a few trips with it and we are so glad we bought these!!! We decided to invest in quality window covers so we can do dispersed camping. It's insane how you can have all the lights on inside of the van and from the outside it looks completely dark, they work so well we had to put an alarm in the morning in order to wake up, lol. The quality is really good, they fit perfectly, and we definitely noticed a difference in temperature once we put them up at night. Our van doesn't have insulation yet and they still made a difference. Also, they come with bags so you can store them properly during the day.
You can't go wrong with these. They check all the boxes for van life.
Stunned! Love these.
I tested the full setup for fit, ease of everyday setup and takedown, storage and 'black out' capabilities. Stunned! Love these.
Will be ordering more
I love the covers and will be ordering more very soon
They truly block out all of the light
They're great by the way. I have to admit I was initially anxious about the price but have been really impressed with the quality and how well they truly block out all of the light
Best covers I've ever had
I really like them and they work really well. I'm very happy with them. Best covers I've ever had.
We love the window shades we purchased
We love the window shades we purchased and will be purchasing others now that we have installed our windows into our 2021 Mercedes Sprinter Cargo van.
Finally! Perfect front window shades!
I was tired of my original window shades which had to be put on with suction cups and found these. They are EXACTLY what I was looking for. The driver and passenger side go on in literally a second. The magnets are great, I just hold them up and they grab on! The front window fits perfect and locks in place easily. I usually put down the sun visors to just secure it in place. After use they fold up flat and are super easy to store. 5 stars from me!