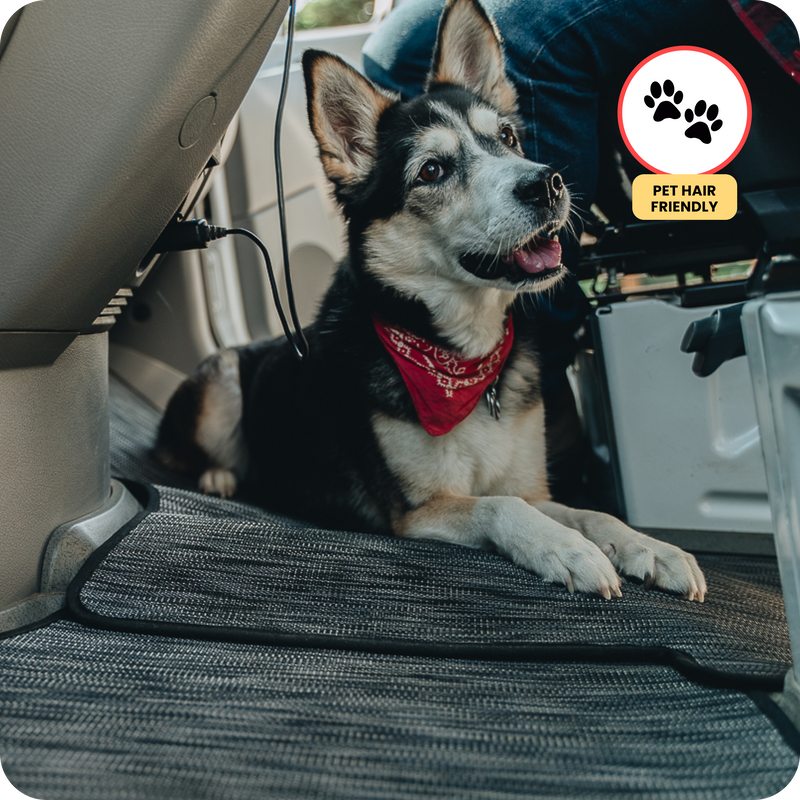 Front Cab Floor Mats
Choose Your Van
Sprinter 19-2023
In Stock & Ready to Ship
Add some extra flair and keep your floors clean with our custom hand-sewn weatherproof vinyl floor mats.
✔ Weatherproof Materials
✔ Cushioned Rubber Backing
✔ Pet Hair Friendly
✔ Easy to Remove & Clean

Designed for the 2008 - 2024 Sprinter Vans (Make sure to select your year)


Free shipping within the contiguous USA

Our Mats are built to keep your van floor clean & add some extra flair to your van. They are made using Chilewich commercial-grade vinyl flooring bonded to a rubber weatherproof backing.
People Love our Mats Because
They are Extremely Easy to Clean
Have a Cushioned Rubber Backing
Hide Dirt Extremely Well
Are Pet Hair Friendly
And Built to Last
Option 1 - Mercedes Sprinter Van 2007 - 2018
Option 2 - Mercedes Sprinter Van 2019 - 2024
Not compatible with floor vent
2019+ Sprinter Mats have a notch cutout for manual mechanical break.
3-Piece Set: Driver, Passenger & Center pieces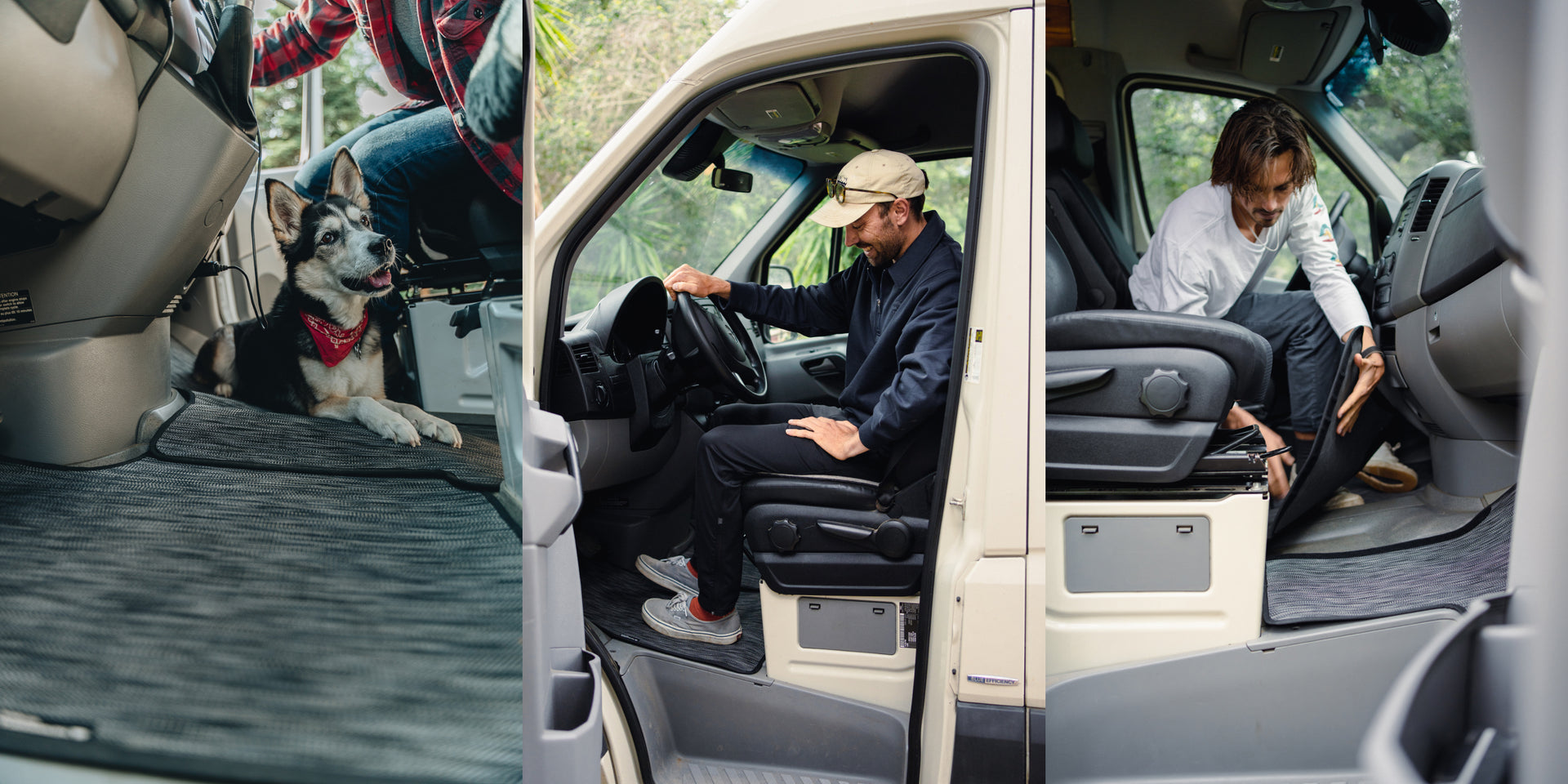 The Ultimate Adventure Mats
Durable and weatherproof floor mats that are ready for any adventure.
The floor mats are Incredible! They're easy to clean, and they look sharp. Makes driving without shoes on pleasant!
This is my new favorite van upgrade. The mats make driving so much more comfortable.
I spent 3 weeks in Baja and these made it so much easier to clean the sand out. Looovvve it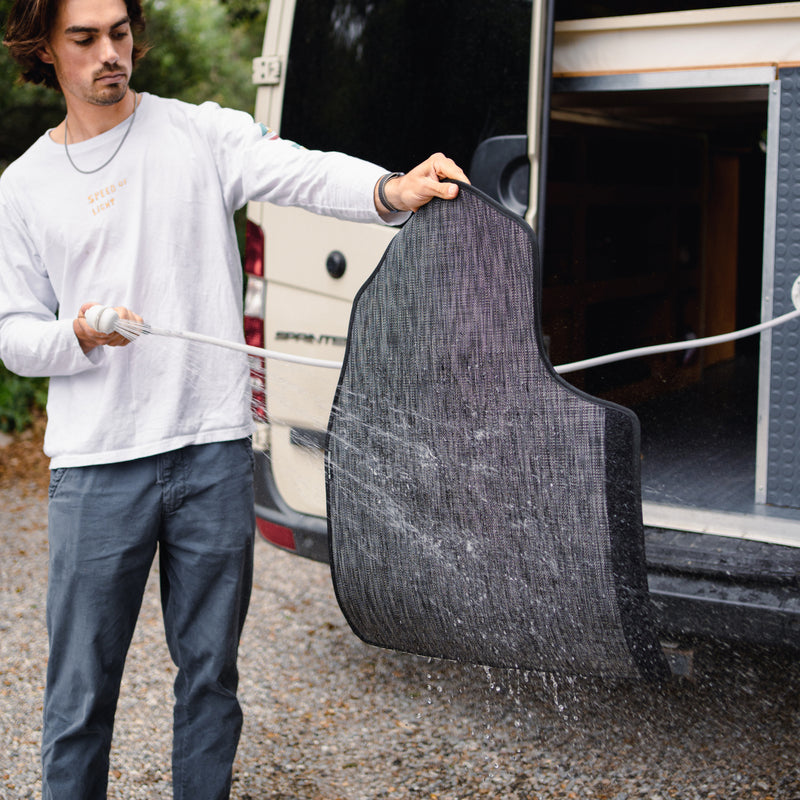 Designed for
All Seasons & Conditions
Made using marine-grade and durable materials to withstand even the harshest of conditions. Snow, sand, mud... These mats make it easy to keep your van clean.
Made with
Automotive & Marine Grade Materials
✔ Weatherproof Woven Vinyl
✔ Cushioned Non-Skid Rubber Backing
✔ Sunbrella UV Binding

How We Compare
Other Floor Mats just didn't do it for us...
So we made some that check all of our boxes
✔ Look Amazing
✔ Pet Hair Friendly
✔ Quick DIY Install
✔ Easy to Clean
✔ Perfect Fit

#THEWANDERFUL
See Our Gear in Action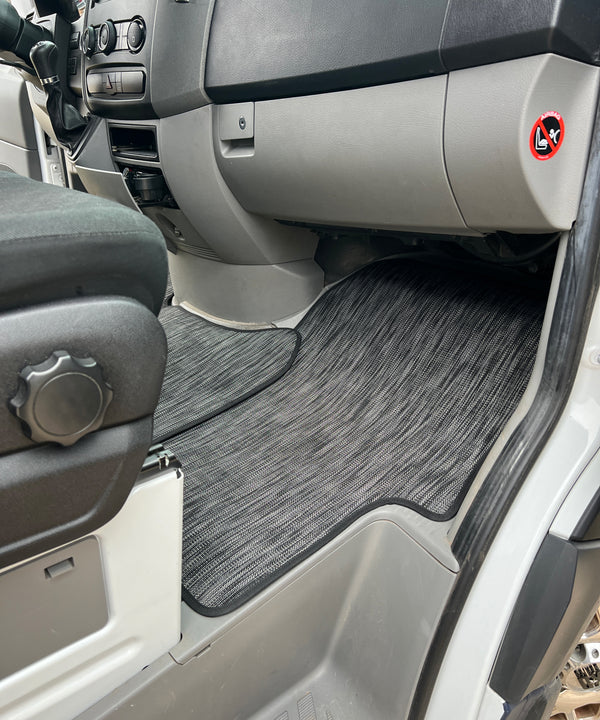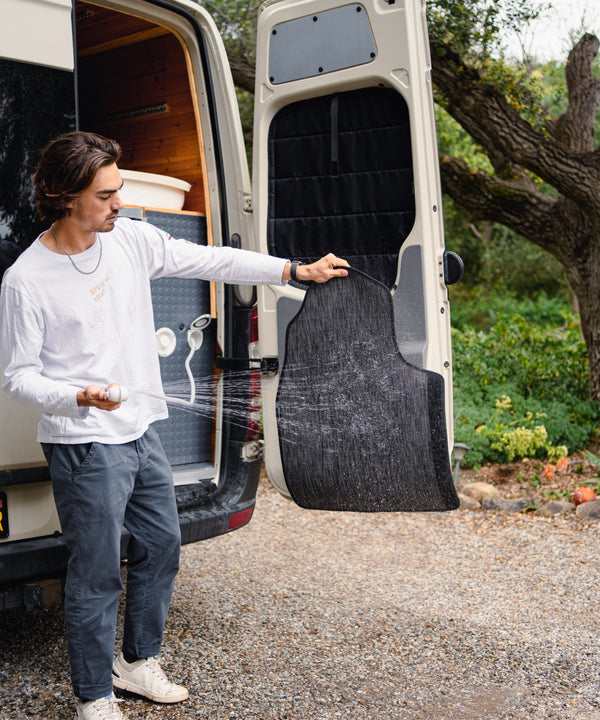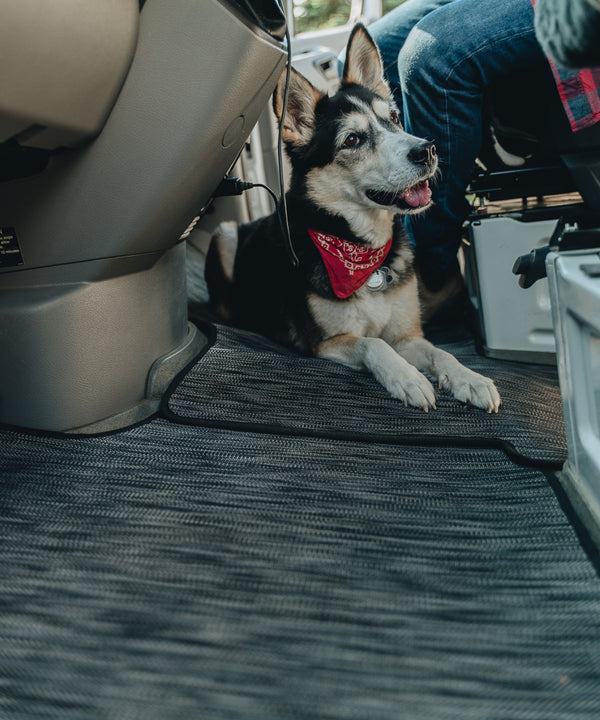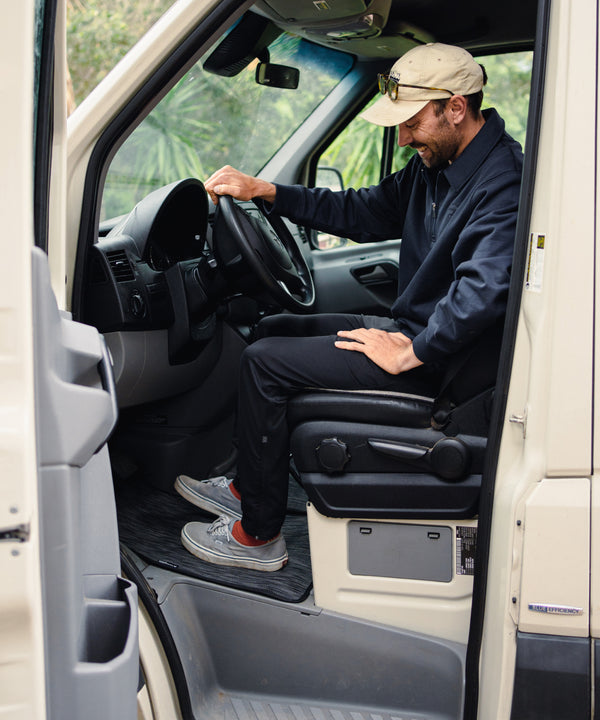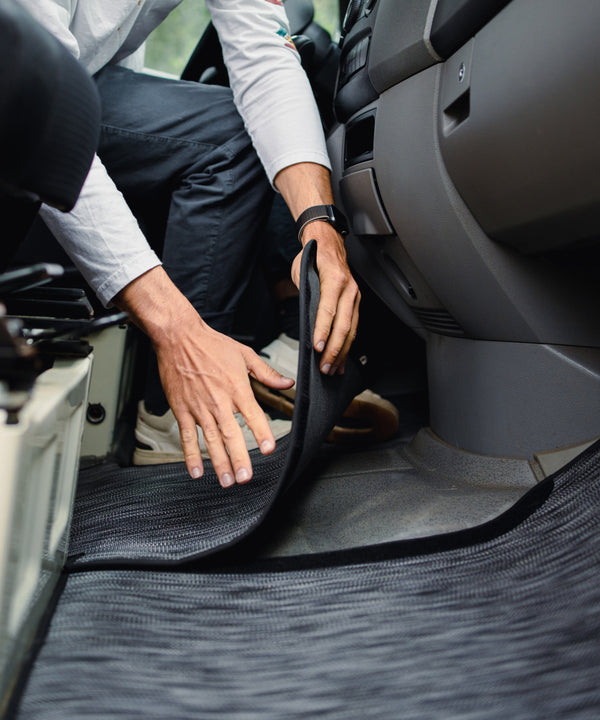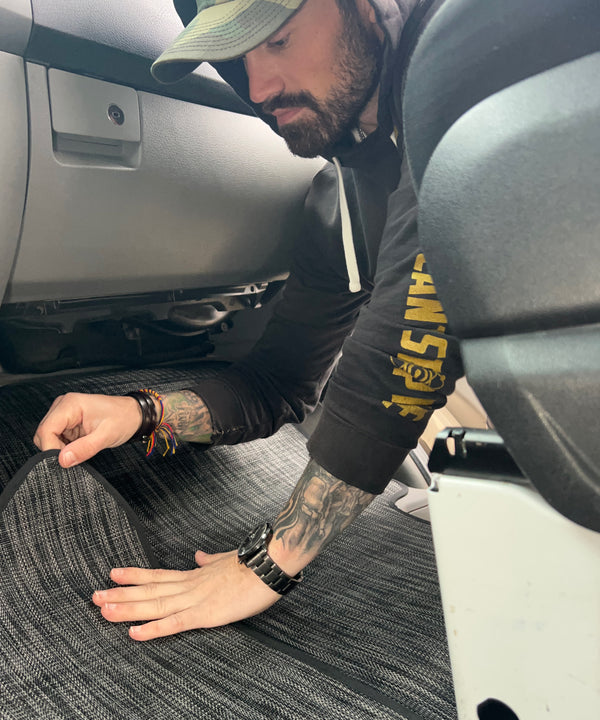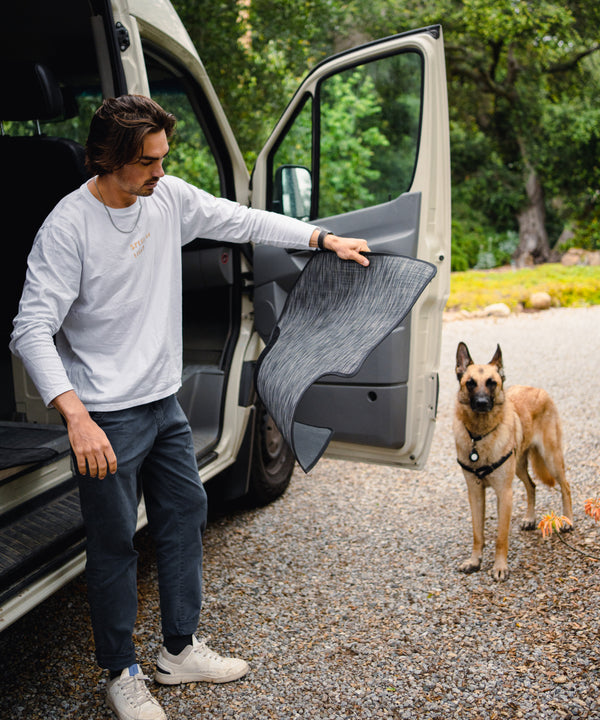 Floor mats are great
Floor mats are great. Looking forward to how they handle our Vermont winters. I am guessing perfectly.
New floor mats are siiiick
They really are as amazing as the reviews. My new floor mats are siiiick too. Probably gonna get the bug screens too but I'll be making a few other purchases first. You guys make great, high-quality products. Thanks!
Love the floor mats
Works great, Scott and love the floor mats
Best Window Shades On The Market
I did my homework and it payed off! These are the best window shades available! If your looking for window shades DON'T HESITATE these are going to make you very happy!
Love love love these mats
I never thought I'd rave about floor mats, but here I am. These mats are everything they promise and more. Easy to clean? Yes. Perfect fit? Yes. And I can't get over how they feel underfoot. My van feels so much more "high-end". I've had to buy so many things for my van and these stand out as one of my favorite purchases so far.
I've just installed these floor mats in my Sprinter van and I can't overstate how much I love them. The high-end look of the material adds a level of sophistication I didn't think was possible in my camper. And despite their luxurious look, these mats are incredibly durable. Also, the cushioning is a total game-changer... it makes long drives so much more comfortable. A terrific blend of style and comfort! 10/10