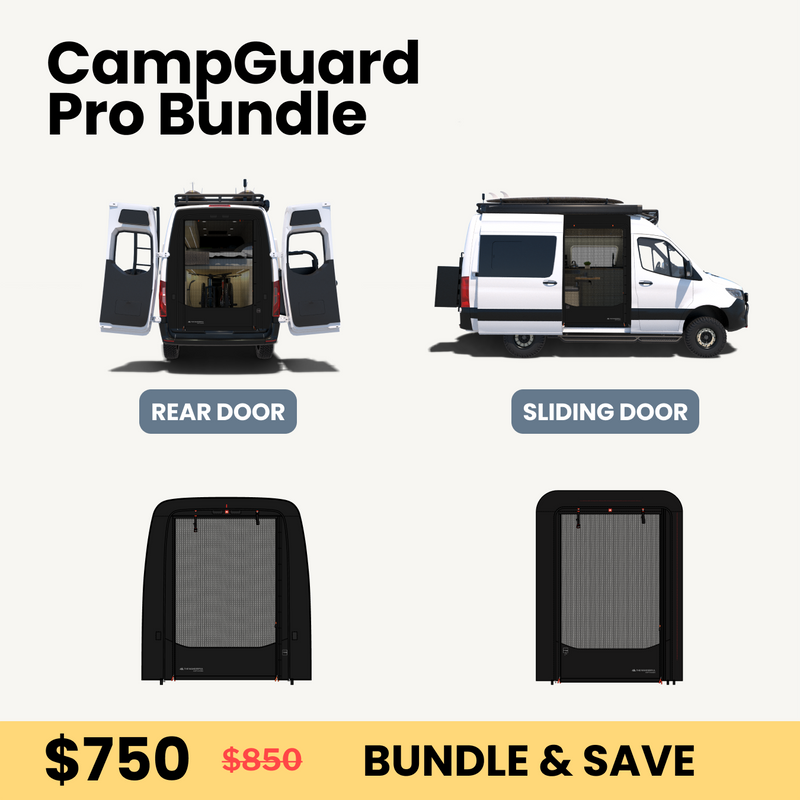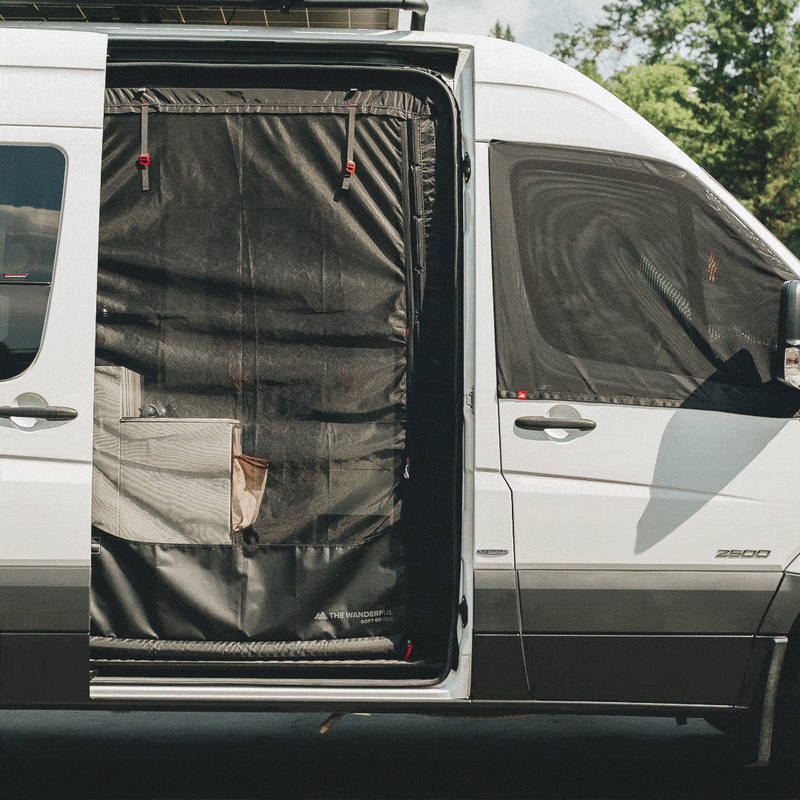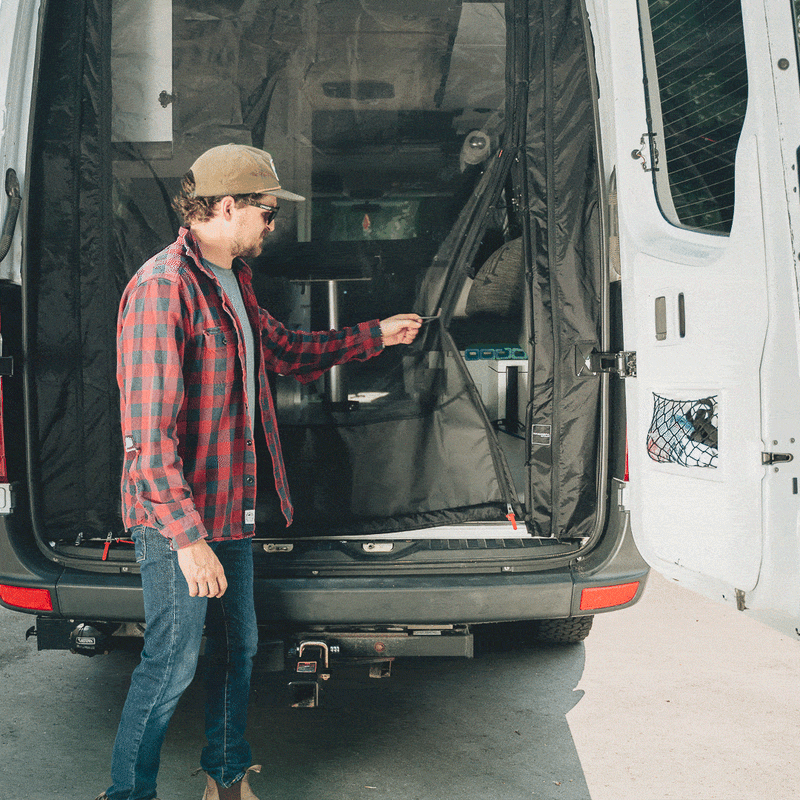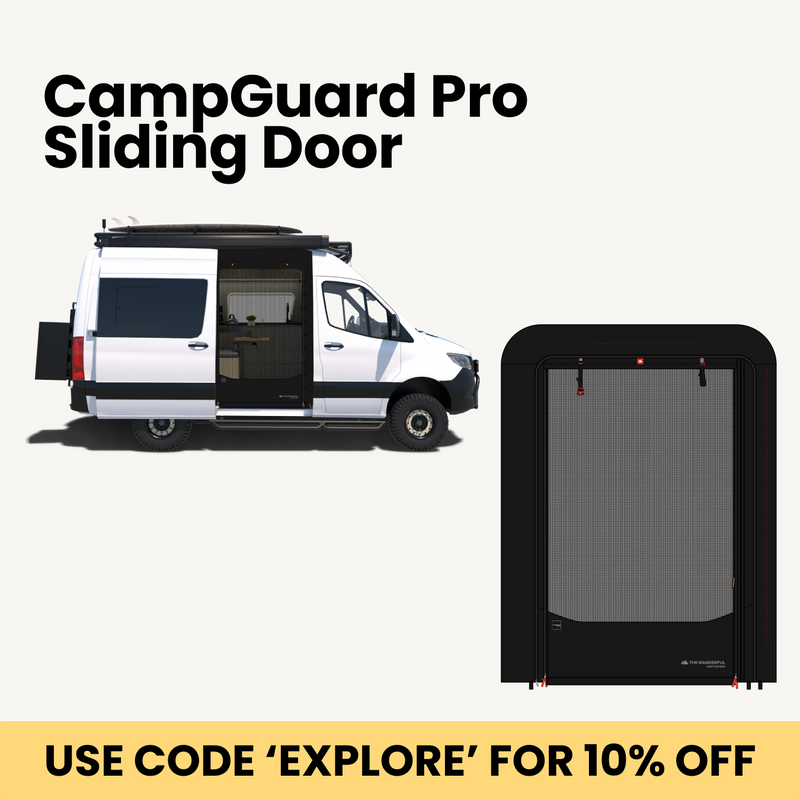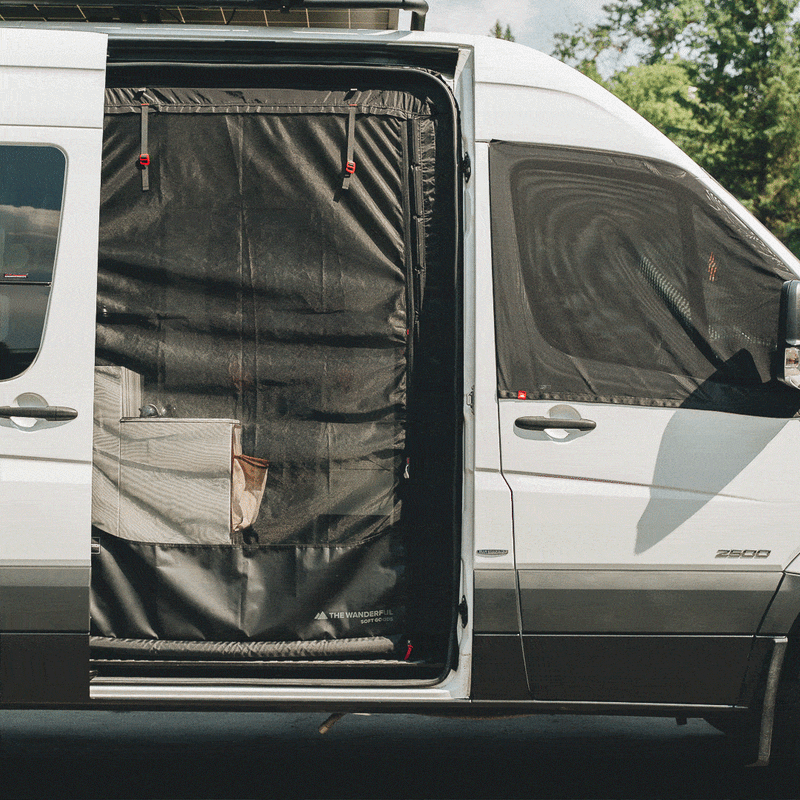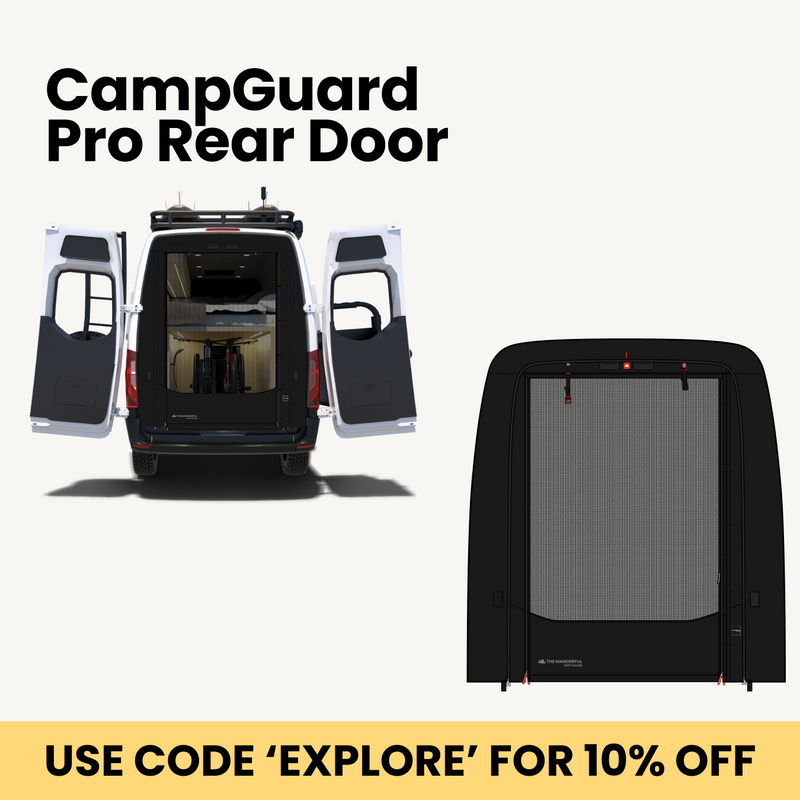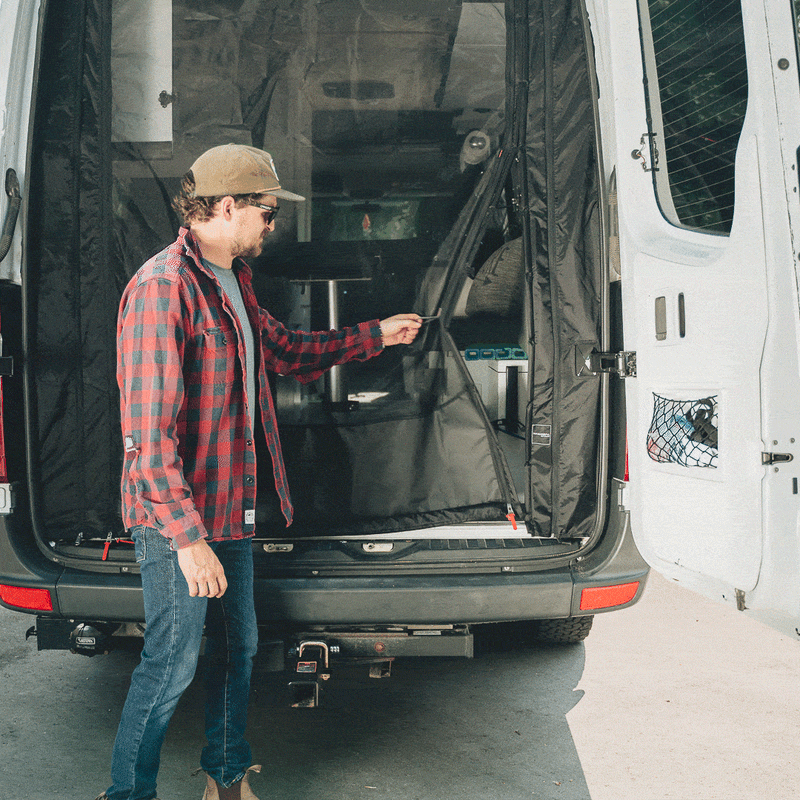 CampGuard Pro Bug Screen
Choose Your Van
Sprinter 07-2023
Sprinter Screens In Stock & Ready to Ship
Promaster & Transit PREORDER | Estimated Shipping April 2024

Tired of your summer family camping trip getting ruined by mosquito bites, crying kids, & a panting dog? Then you need to grab a set of our CampGuard Pro Bug Screens!

✔ Keeps Bugs Out
✔ Allows Air Flow
✔ Provides Privacy & Sun Protection

Check out our install videos for more information: Sliding Door, Rear Door

Free shipping within the contiguous USA
DIY Install (30 - 60 Minutes)
Basic Handtools to Install
Micro Tear Resistant Nylon Mesh
UV Coated Nylon Perimeter
Magnetic offset door closure
Choose from: Mercedes Sprinter 07-2023 (High Roof), Ford Transit 2015-Current (High Roof), Ram Promaster 2014-Current (High Roof)
Must have access to weather stripping along the entirety of the door opening.
3 Piece Complete Bug Screen System
Metal Fabric Clips
Screws
Lower Foam Tube
Storage Case
Bundle comes with both Sliding & Rear Bug Screens and 2 x Installation Kits.
Quality Camping Without the Bugs!
You need to get your hands on a set of these. They are a DIY Install, setup in seconds, and guaranteed to become your go-to summer camping must-have.
"I used to have to keep my van doors closed all the time to stop the bugs! Now I can enjoy the fresh air & views without a million bugs inside my van! I love them"
"Wanderful have thought about every little detail that matters. These screens not only look SO good, they make camping in my van 1000% more enjoyable."
"The materials are top-notch. Feels like they will last forever."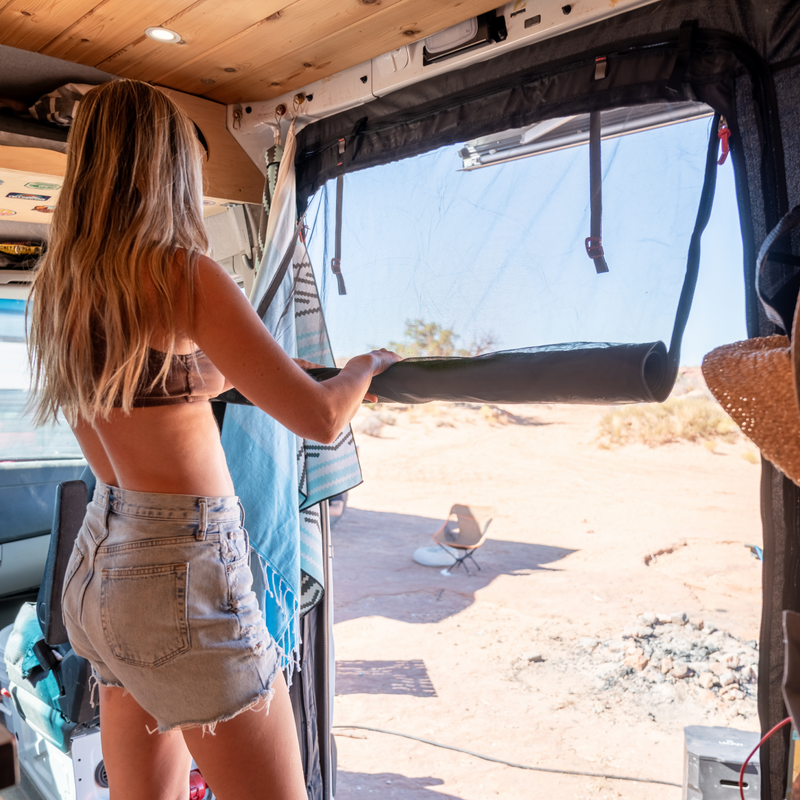 Designed for
Privacy, Pests & Protection
Our screens provide unrestricted airflow using durable polyester mesh, and keep the smallest of critters out of your van.
They use a self closing magnetic latch system so you never have to worry about closing the door.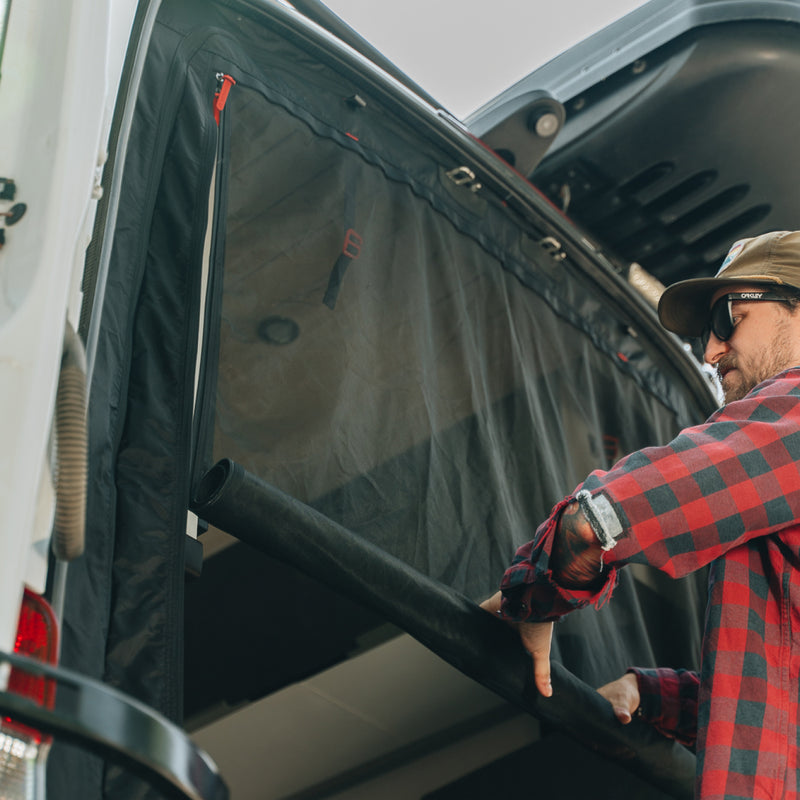 Made with
Materials Built to Last
✔ Durable Micro Mesh Screen
✔ Quick Roll Foam Tubing for Storage
✔ Easy Clean UV Coated Nylon
✔ Flexible Rubber Strip Magnet Closure System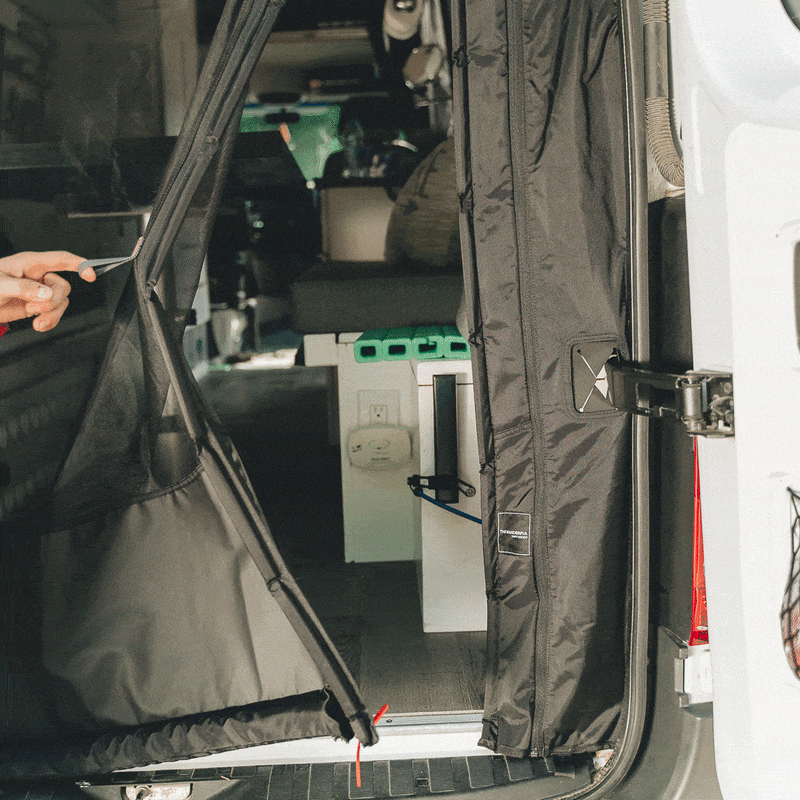 It's too easy
Automatic Closing
The CampGuard bug screen has been designed for hassle-free installation & simple daily use.
#THEWANDERFUL
See Our Gear in Action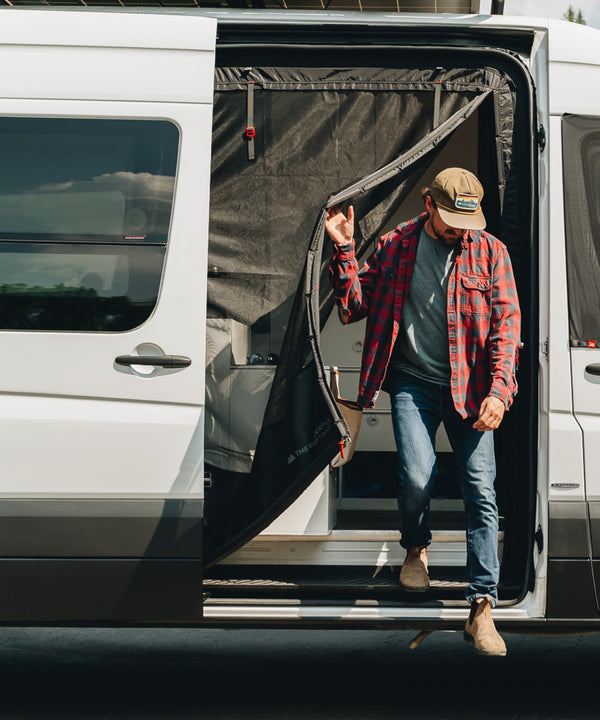 How To
Install Your New Screen
After 5 years of full-time van life, we know firsthand how crucial a good bug screen is for your van.
We wanted to build a system that was ready for every adventure.
Our screens feature the smallest holes for the best airflow and stop the smallest bugs, they install in under an hour, and are built using the best materials and hardware.

The best part? They are backed by our 3 Year Workmanship Warranty
To start, we've launched bug screens designed specifically for the Mercedes Sprinter Van 2007-2023.
We're now taking pre-orders for Promaster and Transit van screens and we aim to begin shipping those in April 2024, hopefully sooner.
Van must be high roof and you must have access to weather stripping along the entire door opening.
Feel free to send us some photos of your door opening so we can verify compatibility support@thewanderful.co.
Our bug screens are a DIY install and usually take about 45-60 minutes.
While the install itself is a moderate difficulty, we always recommend a second pair of hands to help with passing tools, holding down weather stripping, etc.
Note: The sliding door screen is more challenging than the rear due to the overall shape of the door opening.

Click Here to Visit our Install Videos
The CampGuard Pro Bug Screen comes as 3 main components:
1. The Perimeter (installed in the weather stripping)
2. The magnetic opening (zips into the perimeter)
3. The mesh screen (zips & velcros into the magnetic opening section)
While the screen is certainly not a permanent install, the perimeter is designed as a one time install while the other pieces are built so they can be zipped in and out as needed.
You may return any unused product within 30 days from the time you receive your order.
To initiate a return, please email support@thewanderful.co.
For more information on our returns policy, please CLICK HERE
Pretty slick!!
We have a Revel 2023
Just tested your screens. Pretty slick!!
Looks like they will be great
My new bug screens look like they will be great! Thank you.
Cannot imagine how we lived before these
After using these we cannot imagine how we lived before and know with certainty that there is no better quality than The Wanderful. As far as feedback goes I don't know that we really have any because everything is so well designed.
Appreciate the quality
I appreciate the quality and value of your products.
The perfect time for bug screens
On a recent family jaunt, our little ones were off playing when a yellow jacket swooped in for a sting. Cue- the perfect time for bug screens! After that, she wanted to hang out in the van and insisted the bug screen be shut for a bit.
Even our pups have learned to hop in and out like pros.
Thanks Wanderful!
Perfect Fit - VS30 w/ Electric Door
I couldn't ask for a better solution for our van. The installation was super easy (and I did 90% solo) and we're really happy with how the whole system works. We haven't attached them to the bottom door plate yet so if you're in the same boat, just be mindful to pull it in when you close the door. We have an electric door and have zero problems with the doors functionality.
The doors functions work the same. Easy to deploy and simply does the job.
Very happy with this decision and highly recommend this to anyone.
You can follow along on our vans adventures on IG -- https://www.instagram.com/zekesview
Worked perfectly!
Used them this past weekend. Worked perfectly!
Bug screens are amazing
Bug screens are amazing. Thank you so much.
Your instructions were great
Installed bug screen last weekend. Your instructions were great. We have an automatic side door so a little more challenging to get everything snug and avoiding interference with door closures. But finally got it. Bugs are gone for the season but looking forward to these next summer.